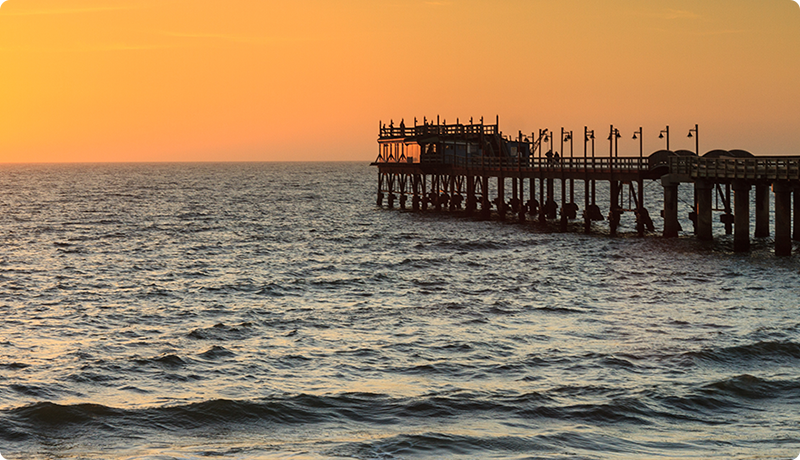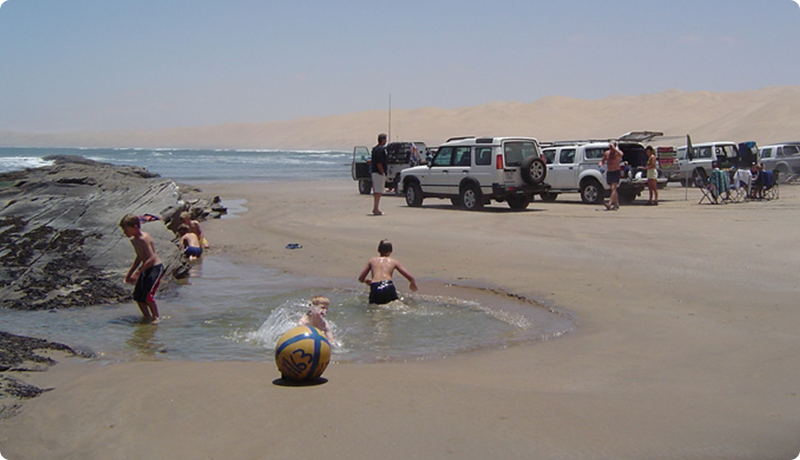 Swakopmund
Known as Swakop by the locals, Swakopmund is a coastal town, and regarded by many as the holiday capital in Namibia. Swakopmund stands out among major tourist destinations in Namibia for its geographical location in which it marks the point where the Namib Desert meets the Atlantic Ocean. As a result, the environmental dynamics are unique thanks to the combination well-developed desert town and coastal attractions.
Activities / what to do in Swakopmund
Swakopmund gets the reputation as the ultimate holiday destination for many good reasons. You will have no trouble finding attractions and activities to see and do.
Some of the most popular sites and adventures it offers are as follows:
Land: a desert is harsh, but it does not necessarily mean that you need to steer clear from such environment. In Namibia, the desert is the place where you can engage in fun activities such as sand-boarding (also known as dune-boarding). Of course, you will use proper equipment and outfit to keep you safe; you are not MacGyver, so you don't want to do sand-boarding on a stolen map, literally.

Highest dunes located near Walvis Bay are not for the faint-hearted; for those who are, there are always smaller dunes just next to the town. If you can imagine yourself wearing tight pants and sunglasses, you might as well do it in real life. We all understand that you cannot handle the urge to take photos and show them to your thousands of best-friends-forever on the Internet, but it does not make sense to carry a fancy camera on a sandy land. Considering you will upset the sands all over the place, dirt and debris can easily ruin the lens. Luckily for you, most (if not all) operators offer packages that include documentations, too. The idea of having good time and not taking selfies may sound all strange to you, but the operators have you covered. Quad-biking is another fun activity in case you are too tired to climb the dunes on foot.


Air: as mentioned earlier, Swakopmund is the starting point of an adventure in the Namib Desert. Before you step your foot on the desert, spend times to enjoy the beauty of the nature from the air on balloon, helicopter, or even small plane. This kind of tour gives you an idea of how wide and beautiful the desert is. If you are one of those people who think that desert only exists in Mad Max, air safari will be like a revelation for your mind.

Paragliding and skydiving are also available. Once again, such activities are for the adventurous. Beginner courses are provided, however, so you can actually learn something rather than just walking around the town with your jaw dropped.


Sea: in case you have not noticed, Swakopmund is a coastal town, which means it is located on the shore of an ocean. The western border of Namibia and the Atlantic Ocean, and Swakopmund was originally a primary harbor. Right here you have the combination of cold water, warm sands, cafes, and surfing; all are within close proximity to a desert. The more relaxing activities such as offshore fishing is available, too.

Boat cruise sets off from the Walvis Bay harbor. Within only several hours of cruising, you have very good chance of spotting dolphins, pelicans, seals, and other marine life. The bay is home to dolphins, which means you can watch them playfully swim home as you sail away. From July to August, the coast has its whale season; keep your eyes open to see those giants all around the water.
In addition to the outdoor adventures involving altitudes and a lot of sands in your hair, Swakopmund is also a nice place for much quieter trip. Walking around the town opens the door for scenic lessons about history as you visit German architectural inheritance. Swakopmund was founded in 1892 as a harbor for Imperial German colony, and today you can still see how this little piece of history is sprinkled with German architectural styles all over the place.
Swakopmund Jetty: extending 300 meters out to the Atlantic Ocean, the original construction was made from wood. It went through renovations and eventually the wood was replaced with concrete. Although it fell to disuse after World War II for military purposes, you can still use it as a place to watch the sunset.


Woermannhaus: built in 1905, this building was taken over by the Woermann & Brock Trading Company four years later. It was restored in 1976 and functions as public library. It is also a national monument.


Lutheran Church: it was built by the Germans in 1912. It looks like the church came straight out of Germany.


Lighthouse: one of the most visible building in town; it stands more than 25 meters tall.
The town delivers an interesting blend of European architectures planted on African soil. Many historical buildings are actually heritage of the colonization period; it has museums, prison, railway station, and even a church that represent an important part of the town's history. Swakopmund is a major tourist attraction offering plenty of things to do and see for everyone. Take a trip to the coast and you will find plenty of exciting activities sprinkled with flairs of fancy beach resorts and water sports.